LIVE Active, Organic Water Kefir Grains with Quick Start Guide
FREE Canada-Wide Shipping

Comes with a generous 1/4 cup of water kefir grains to get you started.  Will produce close to 1 liter of water kefir.  Your quick-start guide comes with a variety of options to help stimulate your unique flavor combinations!
Our water kefir grains are carefully grown and selected.  We want each customer to have wonderful experiences creating their own bubbly probiotic drinks!  This is why we know the value of a good foundation!  We use the best ingredients we can source in growing our kefir grains 🙂
We are very passionate about our customers and improving their gut health!
We started our business because our kefir grains healed our twin daughters' severe lactose intolerance and my husband's horrible candida overgrowth. We firmly believe in kefir's ability to heal your gut, and we want all of our customers to experience this change as well! 🥰
Over the years, we have heard the wonderful stories of our customers venturing out and learning more about their bodies, gut health, and restoring their vitality. We feel very humbled that we were able to play such a small role in their great journey. We are grateful that you would consider our little kefir grains as well. 💗
Kefir is commonly known as a fermented probiotic milk beverage made from milk and milk kefir grains.  The word Kefir is traditionally pronounced "Kuh fear" and the anglicized version sounds like "key-fur".
Water kefir is a probiotic beverage made from sugar, water, and water kefir grains.  The beneficial bacteria and yeasts consume the sugar and leave a splendid, slightly tart, yet sweet drink that is full of probiotics.
Water kefir is not as strongly flavoured as kombucha when finished.  For this reason, many customers do a second ferment by placing their water kefir in another jar or bottle and then adding fruit juices or fruit for another 24 hours.
This creates a flavoured probiotic soda that is very tasty!
Why Our Kefir Grains are Great for you! 🥳
✔ Our kefir grains make tasty water kefir; just ask our customers!
✔ No Need To Rehydrate; use right away!
✔ Always Live, Active, Organic, and Always Fresh
✔ Each order comes with a simple and easy-to-use guide.
We guarantee that your organic water kefir grains will be extremely hardy and always fresh!  If they get damaged in transit we will always replace them. 👌
Your water kefir grains will continue to grow with each new batch. Seeing them multiply is always so beautiful 😭
We want to give you the highest quality grains possible, and that means made with only organic ingredients. 😘
To further help our customers have a great experience, we are always happy to help if you have any questions! 🍁
Our Water Kefir Quick Start guide to get you up and running in no time!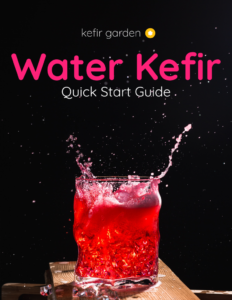 We are excited about all of your flavor combinations!  In your guide, you will find some suggestions on flavoring.  But we know our customers are very creative and we look forward to your messages about your ideas and suggestions!
Additional information
| | |
| --- | --- |
| Weight | .07 g |
| Dimensions | 24 × 18 × 3 cm |